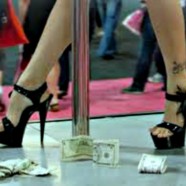 I thought that this would be a fun topic to post about…
Working as a server for over 20 years in a strip bar, I have received other types of tips other than monetary. Money is obviously a waitress's favorite, but I have also received fresh salmon, homemade baked goods, homemade jam, chocolates, fresh vegetables from a customer's garden, dozens of roses sent to my work (and they weren't from Rod), candles, Scratch and Win lottery tickets, bottles of wine, souvenirs from customers' vacations, personal letters (some are strange) and a handful of screws (I'm not kidding) to name a few.
In my book, The Life of a Stripper, this is one question I have asked the girls in their interview. The answers you will read about will shock and amuse you.
Have you received any strange or unusual gift from someone? Post it here! I'm curious to know.